Embracing Island Living in Wailea Resort
Purchasing a Wailea home or condominium in Wailea Resort can a defining moment in your life.  Turquoise waters, gleaming white sand beaches, and ideal weather are the characteristics of Wailea, a beautiful piece of paradise.  Are you ready to make that dream come true?
There is nothing like catching an unforgettable sunset from your lanai, or entertaining around your poolside, enjoying a tropical setting, with lush Hawaiian flowers and palm trees.  Finding your own bit of paradise in Wailea Resort can have many challenges.  That is where local knowledge can make a difference, understanding home construction and the ins and outs of building a home, or what it takes to make a home into your island getaway.
My job as a Wailea Realtor, is to help you find that dream home.  There are many neighborhoods to choose from.  Maybe you're looking for an oceanfront home or there are a number of gated communities that offer exquisite estate homes in Wailea.  Or you may desire the exclusive area of Makena Beach, a definite world of its own.  I'm here to provide you with everything that you need to know that pertains to purchasing or building a home.  I was a licensed contractor for 16 years on Maui prior to my 21 years of selling real estate, so I can share my knowledge or definitely refer to you contractors, lenders and escrow companies that can serve you.
Are you seeking seclusion in a private residence, or a second home to carry you over in the winter months?  My goal is to help you find that perfect place in Wailea, Maui that will suit the aloha spirit and island lifestyle that you may be seeking.  Below are links from my website of different luxury homes in gated communities in Wailea.  You can sign up to receive email updates on all new Wailea homes for sale in Wailea Resort, and throughout Maui.  If you're going to be on Maui, set up an appointment at our Elite Pacific Properties office in Wailea Gateway Plaza.  So discover for yourself, the best of Wailea, Maui.
Aloha,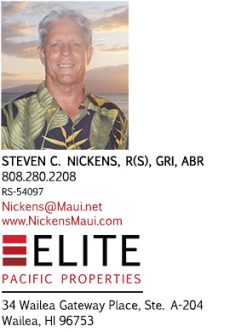 Steven Nickens
Active Wailea Homes For Sale-  Wailea Pualani – Wailea Kialoa– Wailea Golf Estates– Wailea Golf Vistas –  Wailea Kai – Wailea Higlands _ One Paulua Place –  Makena Place – Wailea Makena Oceanfront Homes