Maui Paddle for a Cure Kaanapali Maui.
Paddle for a Cure at Kaanapali Maui, was sponsored by Hyatt Regency Maui Resort and Spa, The Butterfly Effect and Maui Jim's. The event was held October 3, 2015 and was a great success. The event and donations was to benefit Susan G. Komen, a very worthy cause.
My wife and friends decided to join the event, being fans of The Butterfly Effect which is held on Maui's Northshore every year, put on by promoter Tatiana Howard. I ended up being the photographer and board carrier, next year I will join the event. It was a Hugh success, starting out with Yoga session to loosen up, then a Hawaiian blessing over the event and safety for all the paddlers.
Maui turned out in full force to support this worthy event. The wind and waves really came up, so the 4-mile course was cut down to 1-mile for safety reasons, but that didn't discourage anyone. Paddlers took to the water, laughing, water was beautiful and spirits were soaring as they enter the water.  Pictured on the right, is my good friend Mike Leonard, a five year cancer survivor.
I walked up the beach to check out the paddlers in challenging conditions, with Jet Ski assist everyone one was in good hands. Just so happens that we had our first major winter swell on Maui and it was wrapping around towards Kaanapali. As the race returned, it was really exciting, lots of smiles, high five's and another successful paddle event for a worthy cause.
Next it's off to the Hyatt Regency, who was hosting the Paddle for a Cause after party. The Hyatt did an excellent job putting on the event, with plate lunch, cold drinks and music by Anuhea. The afternoon finished off with dancing, raffle and a feeling that you were part of a very special day.
So to all the sponsors, congratulation for an excellent event.  Until next year, " Aloha."
Learn more about Maui real estate, and working with Island Sotheby's International Realty.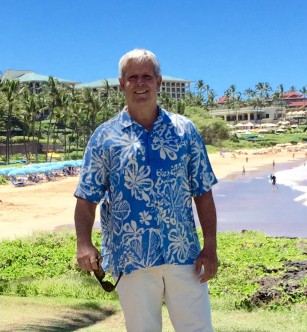 Steven Nickens R(S) GRI ABR
Island Sotheby's Int'l  Realty
Offices in Napili, Wailea, and Up-Country Maui
Cell: 808-280-2208
Website: nickensmaui.com
Email: nickens@maui.net