It's been a exciting week at Hookipa Maui.  It's good to see windsurfing competition return to one of the best windsurfing spots in the world, Hookipa Beach Maui. The PWA windsurfing association pulled off a great event.  Being a rookie windsurfer of only three years it was a treat to watch world class windsurfers men and women tearing it up in the surf.  Conditions were perfect with good wind and waves. The over all winner of the JP Aloha Classic was Maui's Levi Siver with 2nd place going to Bernd Roediger.  Other top Maui finishers included Maui rippers Josh Angulo, Robby Swift, Kevin Pritchard and Graham Ezzy all top notch Maui sailors.
I shot some footage of day three which was just amazing conditions.  If you ever have a chance come down and watch the action it is world class.  Our winter season is just heating up.
On the north shore of Oahu the HIC surfing competition is going on at Sunset beach.  We have a couple Maui surfers making it through the early rounds Ian Walsh tearing it up with some amazing power surfing and Ian Gentil talented young surfer from Hookipa. Moving into November the Triple Crown of Surfing will soon be getting under way with three events on Oahu's northshore.  The last event at Pipeline will be the deciding factor for the title for WCT world champion between Kelly Slater and Mick Fanning.
So lots happening in Hawaii, get out and enjoy the surf and be safe.  If your looking at buying a home in Maui give me a call. Maui been my home for 41 years, I love to surf and windsurf on Maui's northshore so let me know if you have any questions that I can help you with.
Aloha,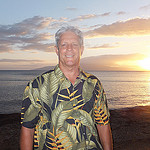 Steven Nickens R(S) GRI ABR
Island Sotheby's Int'l Realty
Wailea, Makawao and Napili offices
Website: nickensmaui.com
Cell: 808-280-2208
Email: nickens@maui.net