Maui local talent, friends and people that make Maui a special place.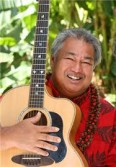 George Kahumoku
There's a reason he's been called Hawaii's Renaissance man: George Kahumoku Jr. is a multiple Grammy Award & Hoku Award winning master slack key guitarist, songwriter, world-traveling performer, high school and college teacher, artist and sculptor, storyteller and writer, farmer and entrepreneur.
In February of 2006, George and fellow slack key artists and producers were thrilled to receive the 48th Grammy Award for Best Hawaiian Album for their compilation recording, Masters of Hawaiian Slack Key Guitar, Vol. 1: Live in Concert from Maui. But George's Grammy fame doesn't stop there: The sequels to this recording, Legends of Hawaiian Slack Key Guitar: Live from Maui which includes additional artists (Dennis Kamakahi, Martin Pahinui, and Richard Ho'opi'i) won the 49th Grammy and then in 2008, Treasures of Hawaiian Slack Key Guitar won the 50th Grammy Award. In 2009, The Spirit of Hawaiian Slack Key Guitar was an honored Grammy nominee and the  compilation. Masters of Hawaiian Slack Key Guitar,  Visit George's site at www.kahumoku.com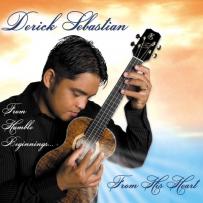 I have the pleasure of knowing Derick, he is just a great human being and one of Maui's shooting stars. Derick Sebastian's musical travels and mastery of the ukulele of 16 years,The artistry and skill on ukulele is second to none, with his unique and personal style of picking, while displaying emotion that transcends from this beautiful instrument. Derick exudes every bit of passion in his ukulele mastery and will no doubt engage each listener. His music is bold at times with crisp staccato, while other times slowing down the tempo to a de-crescendo that emotes sensitivity while conveying a tender moment. It is time to embrace Derick, sit back and listen to an ukulele virtuoso with God-given talent. As he has done in the past, Derick has given of his time to produce this special CD that will turn the ears of ukulele enthusiasts the world over. From his humble beginnings, Derick should prove to many that this "quiet thunder" has arrived. www.dericksebastian.com
The Picasso of The Pacific, Avi Kiriaty Maui Artist!

I was wanting to feature Avi Kiriaty for a long time.  Avi is a local artist on Maui's Northshore.  I have had the pleasure of being friends with Avi on Maui.  Avi Kiriaty, born in Israel in 1957, grew up in a world of art.
His journey through life has taken him from the Israeli Army, to a Greek Island, to a winter cottage in New Hampshire. Following the birth of his first child Keytoe. Avi moved to Hawaii. His first year was spent on Kauai, where he experimented for a time with oil painting. From there he moved to the hamakua side of the Big Island, to begin to live "kama'aina" with the land, farming and fishing. His son, Jazz, was born here on an old Hawaiian homestead.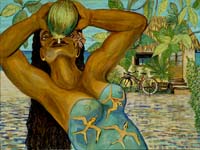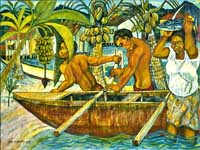 Avi Kiriaty   www.avikiriaty.com
My next artist has been on display at Maui Arts & Cultural Center, work displayed in Wailea and Paia Galleries and she happens to be my wife. Ivy Nickens is one of my favorite artist for many reasons.